Have a Question? Call Us: 201-444-4190.
This medication requires a prescription from your doctor.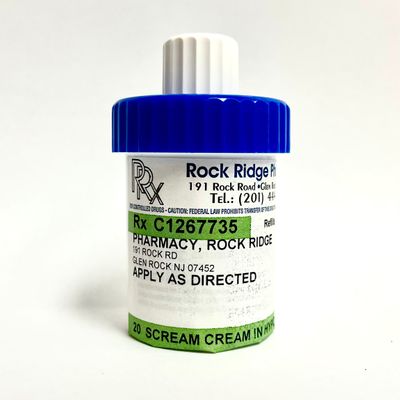 Scream Cream
Scream Cream (Arousal Cream) is a topical cream designed to enhance female sexual satisfaction by increasing blood flow to the genitals, which increases sensitivity and arousal during sex. Any female who wishes to have a more pleasurable experience in bed may benefit from the use of Scream Cream.
Key Ingredients:
Scream Cream is designed and customized to your specific needs and ingredients may vary but may include the following:
Testosterone: A sex hormone used to maintain libido (sex drive) in men and women.
Sildenafil: Main ingredient in Viagra, a sex enhancement drug. It increases the blood flow to sexual organs for intensified and longer pleasure.
Pentoxifylline: A vasodilator medication which helps increase the blood flow.
L-arginine: Arginine, also known as L-arginine is an amino acid naturally made in the body. This helps blood vessels relax, so more oxygen rich blood can circulate to the applied area leading to greater stimulation.
Ergoloid Mesylate: Can help increase blood flow for intensified and longer sexual pleasure.
Aminopylline: A bronchodilator & vasodilator that helps to open the airways and allow blood to flow more easily.
How can I get Scream Cream?
Scream Cream is not available commercially and must be compounded by a compounding pharmacy. Rock Ridge Pharmacy can compound this Cream to your specific needs. You need a prescription from your healthcare provider. Speak to your doctor to see if Scream Cream is right for you.
How do I apply Scream Cream?
Gently apply the cream directly to the vagina and clitoris at least 30 minutes prior to anticipated sexual intercourse. You may experience warmth, redness, or a tingling feeling that is normal. Do not use it on irritated areas or open wounds. Avoid using this cream if you currently have a yeast or bacterial infection. Wash your hands before and after applying this cream. Effects may last from 30 minutes up to 2 hours.
What are the possible side effects of Scream Cream?
Scream Cream is designed to be absorbed locally and have minimal side effects such as Itching, redness, headache, dizziness, dryness and mild irritation. Stop using the cream and call your doctor right away if you have severe irritation of the treated area. During sexual activity, if you become dizzy or nauseated, have pain, numbness, or tingling in your chest, arms, neck, or jaw, stop and call your doctor right away.
How to store Scream Cream?
Store this medication in a cool, dry environment, protected from light, at room temperature (68F-77F). Always make sure the container is tightly closed when not using the medication. Keep all medications in a safe place out of pets and children.