Progesterone Suppositories
Have a Question? Call Us: 201-444-4190.
This medication requires a prescription from your doctor.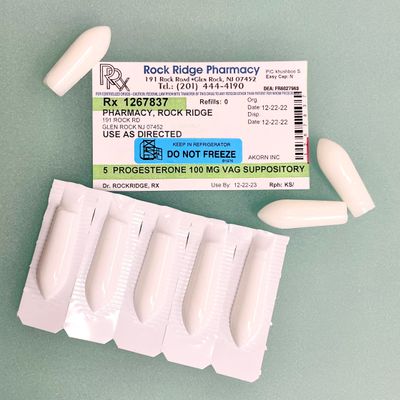 Progesterone Vaginal Suppositories
The most prescribed suppositories are made in 25mg, 100mg and 200 mg strength.
Estrogen and progesterone are essential hormones that are used for hormone replacement therapy to treat menopause symptoms.
Progesterone on its own is sometimes used to help prevent complications during pregnancy. If your progesterone levels are low in pregnancy your doctor may prescribe these suppositories to help thicken the uterine lining so your egg can be implanted in the endometrium.
We can help make and customize these vaginal suppositories to help you in your first trimester to build up your uterine lining and increase your chances of a successful pregnancy.
How can I get vaginal suppository?
You need a prescription from your healthcare provider. Rock Ridge Pharmacy can compound this medication for you. It is one of the most rewarding and satisfying areas of practice for our Rock Ridge team. Our team can provide you solutions by compounding to your unique needs where commercial medication have failed to work.
How to use?
This medicine is for vaginal use only. Follow the directions on the prescription label. Wash your hands before and after use. Do not stop taking except on your doctor's advice.
How to store the suppository?
Store at room temperature or may be refrigerated and throw it away when no longer needed or after the expiration date.