Have a Question? Call Us: 201-444-4190.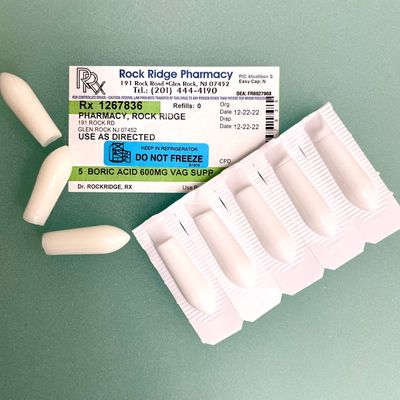 Boric Acid Suppositories
Boric acid suppositories are usually prescribed as a 600mg as a vaginal suppository for use 1-2 times per day for 2-4 weeks.
Boric Acid helps to promote the proper acid balance in the vagina so you feel fresh while supporting healthy vaginal flora (the normal levels of bacteria and yeast found in the vagina).
Boric acid suppositories have long been used for treating vaginal yeast infections.
They are often considered a second-line treatment for yeast infections when antifungals are not working.
For some women with compromised immune systems, these suppositories may be more effective than other treatments.
How should I use this medicine? This medicine is for use in the vagina. Do not take by mouth. Follow the directions on the prescription label.
Read package directions carefully before using. Wash hands before and after use. Use this medicine at bedtime, unless otherwise directed by your doctor.
Do not use your medicine more often than directed. Do not stop using this medicine except on your doctor's advice.
What side effects may I notice from receiving this medicine? Allergic reactions like skin rash, itching or hives, vaginal irritation, redness, or burning. Side effects that usually do not require medical attention (report to your doctor or health care professional if they continue or are bothersome): vaginal discharge
Where should I keep my medicine? Keep out of the reach of children. Store in a cool and dry place. Keep away from sunlight. Throw away any unused medicine after the expiration date.